THE DREAM
Since 2019, the need to gather more academic experience was the drive to my journey into lecturing at the University of Jinka, Ethiopia, in the area of quantum mechanics. During this period, my wish to go further with my academic career in order to contribute efficiently to the development of my country, using research possibilities, led me to applying for various scholarship; the last of these applications, the Pan African Planetary and Space Science Network (PAPSSN) mobility project. My friend, Dr. Ephrem Beshir, a staff at Ethiopian Space Science and Technology Institute (ESSTI) notified me of this opportunity.
I saw this opportunity as a means to fulfill my dreams, but at the same time, I was uncertain if the opportunity will be given to me since I have applied countless times to different scholarship opportunites without success. I was losing hopes!. After several months, no response/notification was forth coming with regards to the selection process outcomes. I would say that I felt discouraged again until September 13th 2021, when I received an email notifying that I have been selected for PAPSSN mobility program. This news was quite unbilievable but joyful for me.
I was sitting out with my friends and colleagues after the close of work 13th September, 2021 when I read the email from PAPSSN. It was so unbelievable since I was constantly refreshing my mail to make sure the mail was actually for me. Fortunately, there were documents attached to the notification, especially the nomination letter which got me convinced and I went on to share the good news with my friends and family. This information was the salt that brought taste to our get together after work that faithful day.
I went ahead to inform my colleagues, particularly my mother, as well as my siblings. This was a difficult task for me because they all depend on my assistance and provisions in the family.
One month after the selection result notification, I received my admission letter from the host university, University of Nigeria, Nsukka (UNN), and I immediately made contact with my supervisor Prof. A. E. Chukwude.
Getting Ready for my Study Trip
The preparation for my journey to Nigeria was a difficult but, crucial step. After informing my Department Board of this development, they received the news with joy and organised a meeting to inform the concerned staff of the department and select a lecture who would take over my courses in my absence. Due to COVID-19 pandemic, getting an entry visa to Nigeria was quite challenging, the Nigerian Embassy in Ethiopa requested for so many documents as proof for my admission in UNN. It took me almost a month to get my visa. After receiving my visa. My suggestion to the readers that intend to apply for a mobility project is be ready, make sure you have all the documents and make sure they are certified!
I immediately informed the PAPSSN coordinator/Supervisor and the Admin Officer at my host university. We all concluded on a departure date and my ticket was booked and sent to me.
Arriving the Universityof Nigeria, Nsukka.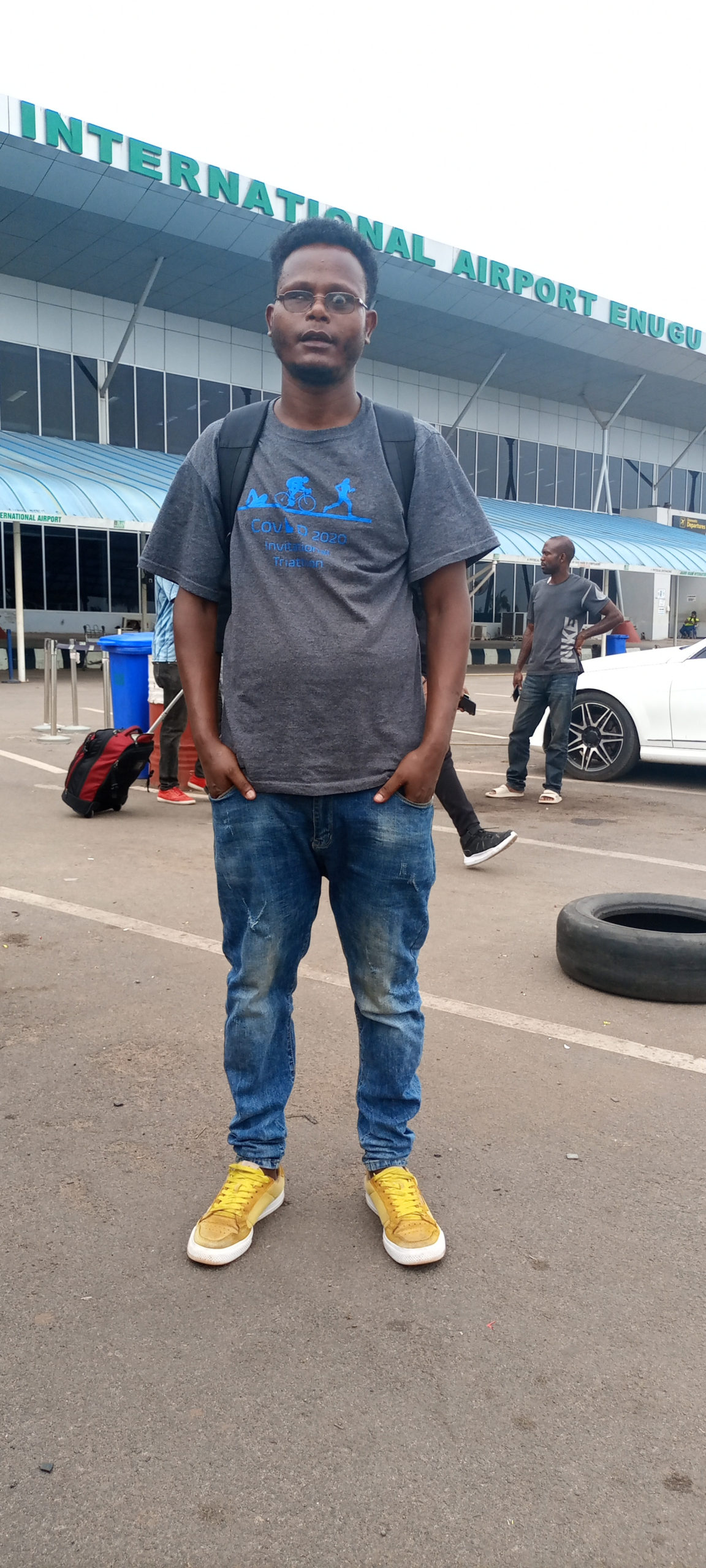 Leaving my family, friends and my wonderful country to study abroad was exciting, but filled with emotions, especially while bidding them goodbye at the airport. I arrived Akanu Ibiam international airport, Enugu State, Nigeria on 4th January, 2022 through Addis Ababa Bole international airport, Ethiopia.
My supervisor/coordinator had already arranged for my pickup before my arrival, hence after the verification process, I was taken to University of Nigeria, Nsukka guest House where my supervisor received me and lodged me for two ( 02) days before I was transfered to my permanent accommodation at the International Scholar's Village, a secured and quiet hostel specifically designated for international students. The sernity of the environment is aimed for them to be focused on their research projects and coursework.
The following day, I started some basic settling in processes for my immediate proper integration such as opening of bank account, SIM card registration, residence permit, and the registration at the School of Postgraduate Studies (PG School). All these took a month to be completed. Afterwards, a meeting was organized for my introduction at the Department of Physics and Astronomy, with the lecturers and other non-academic staff present.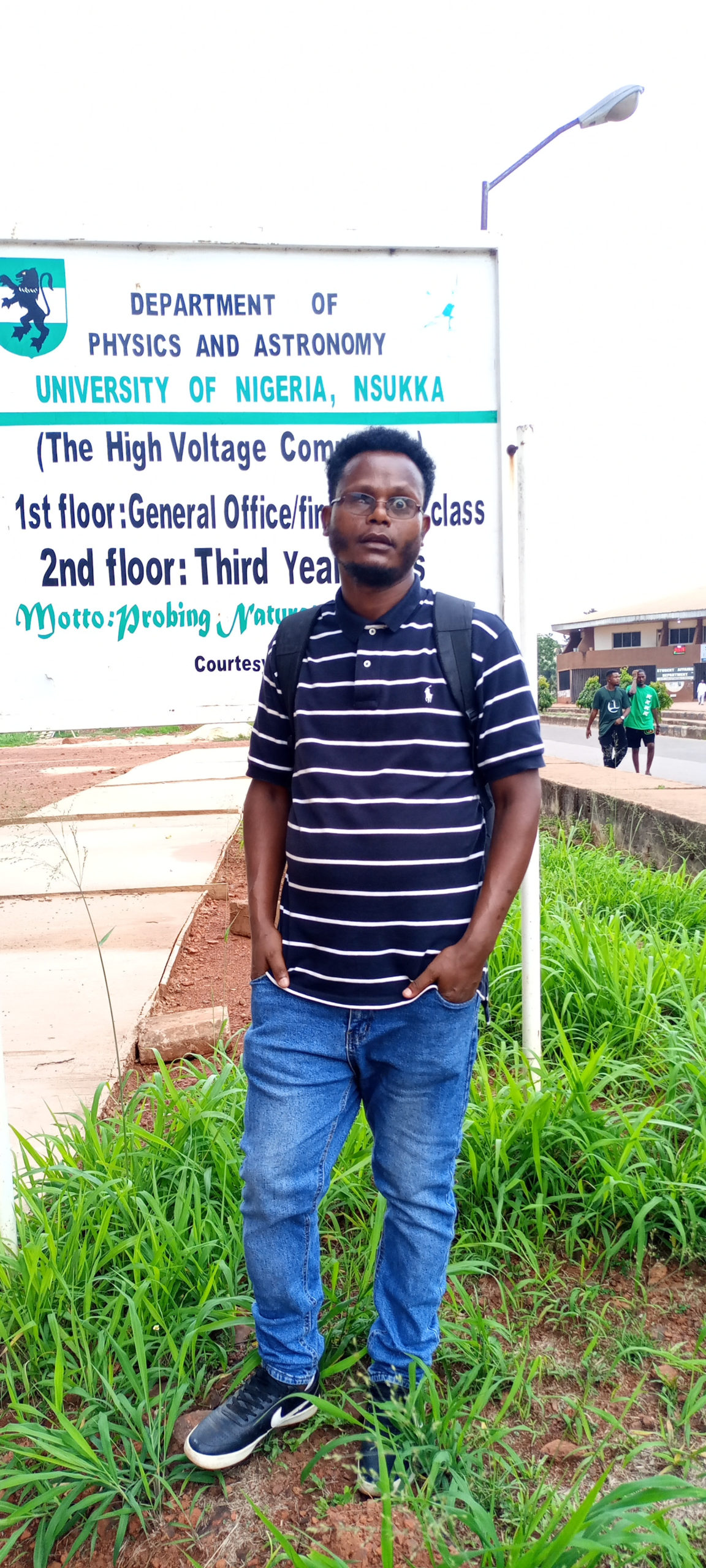 During this meeting, I had the opportunity to view not only the organogram of the department, but also how postgraduate courses and seminars are organized. I really appreciate the warm welcome organized by the department and my supervisor.
My Research Work so Far…
In February, after I had settled down, all the basic processes for my integration were set, I was given the options of different platforms of interaction and communication with my supervisor Prof. A. E. Chukwude for an effective research work supervision. I started my project work by extending my literature review and also presented a seminar in the department. Currently, I am still working on the literature review and preparing for another seminar presentation.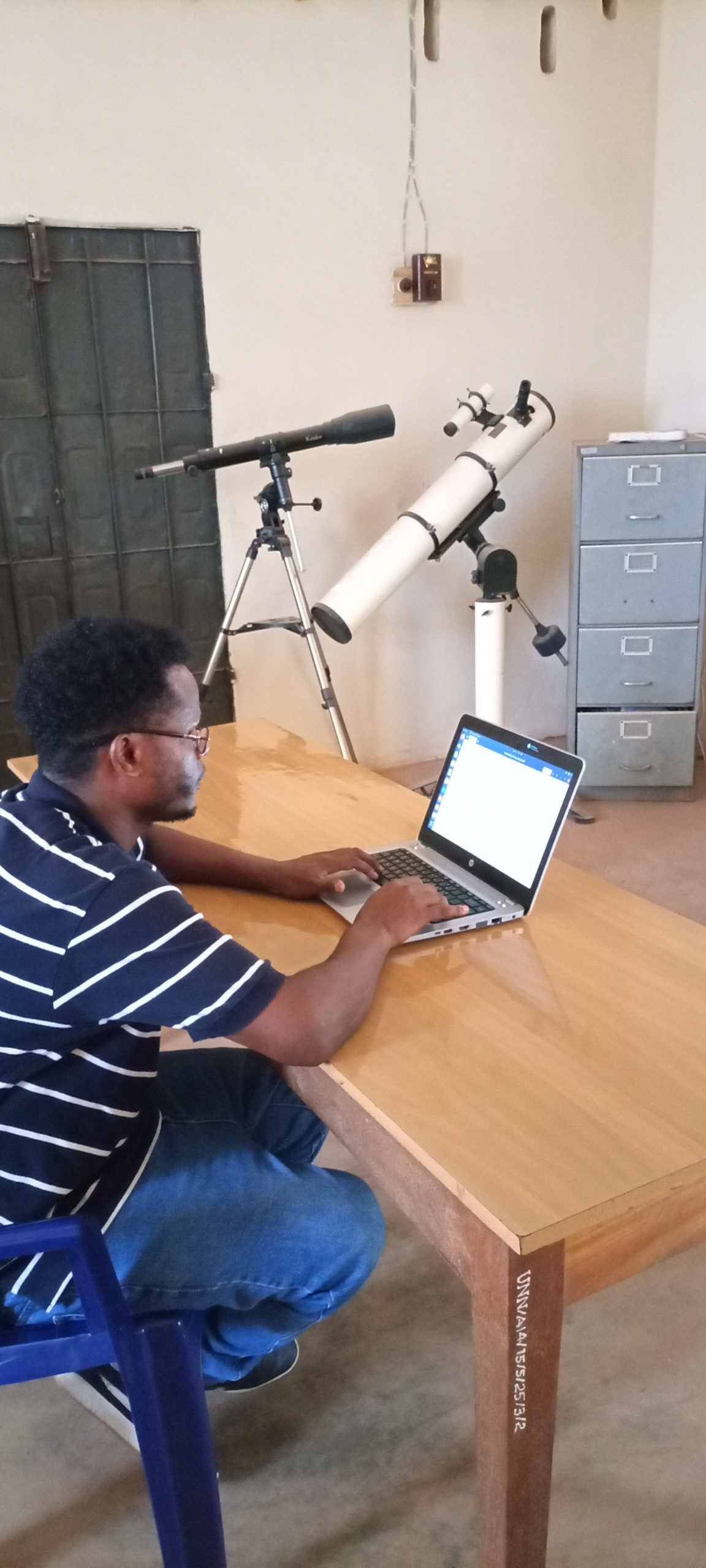 In Conclusion
I am grateful to Pan African Planetary and Space Science Network (PAPSSN) project Coordinator Prof. Fulvio Franchi, the project Manager Mrs. Chakandinakira Gadibotsile and the entire selection committee for their fair and honest selection process which has made me a beneficiary of the PAPSSN project. I am deeply honored to be selectedfor this award that will surely contribute to the development of young researchers in my country and Africa at large. I am deeply convinced that Iwill have the a great life experience in the University of Nigeria Nsukka, as Postgraduate student.
I would like to express my special appreciation and thanks to the project coordinator Prof. Fulvio Franchi and the project Manager Mrs. Chakandinakira Gadibotsile for their efforts towards ensuring that my allowance is paid on time while I am far from my family.
I would like to thank my supervisor Prof. A. E. Chukwude for the great support and kind advice for an effective and efficient implementation of my PhD research project. It is a rare privilege and honour to have him adviceme asmy PhD project supervisor and the coordinator par excellence of this project at UNN. I also wish to extend my profound thanks to my co-assistants Dr. Ogbos Okike and Dr. Jibrin Alhassan for their constant support, availability and constructive suggestions on my project work's progress.
Let me use this opportunity to thank the PAPSSN mobility project management for this opportunity which does not only help students to achieve their dreams, but also contributes empowering them to be able to face the developement challenges in Africa.
Finally, I would like to express my gratitude to the University of Nigeria, Nsukka, the Vice-Chancellor, the Deputy Vice-Chancellors, the Dean of Postgraduate School, the Dean of my Faculty and my family, for their support.
God bless you all.